I have recently become a blogger for Runway Curls Hair and the fun and games is about to begin. A lot has been going on for me, including the preparation for my first performance, at the Precious Beauty and Hair Awards on the 14th of June. I will be performing my poem "Dear Melanin Woman" to a crowd full of people.
Nervous? Yes but any nerves I have been feeling are being negated by the empowerment I currently feel at getting to spread my message! Unity. When I first started "The Melanin Series" it was a project to show my son that even though there is division in the world (he'd had some racist comments from a peer) one person can make a difference. So imagine his face when he came home recently and I was able to tell him about a few booking that have happened because of the Poetry.
His response apart from being super proud became "Mummy what will you wear?" and then my research commenced. Going to perform means that I will have to plan clothes, shoes, bag and hair. It's a good thing I have just started working alongside a new Hair stylist @r.dhairstudio who came over and showed me how to do an amazing High Twist bun with a Ponytail using the new Runway Curls Hair I received. Firstly the hair came in a lovely Gold Box so I felt like a queen straight away. Each bundle had a lovely ribbon around the top holding it in place and Ronke didn't even want to open the hair because it looked so pretty. You can imagine what I was like I just wanted to have my hair done. I am not the best at doing hair and I don't often have time to figure things out but having her show me this quick and easy style really helped. I decided to share it with you all if you feel like making a crown from your hair and feeling even more like a Queen than you are, this is definitely the hairstyle for you.
You can order the hair here: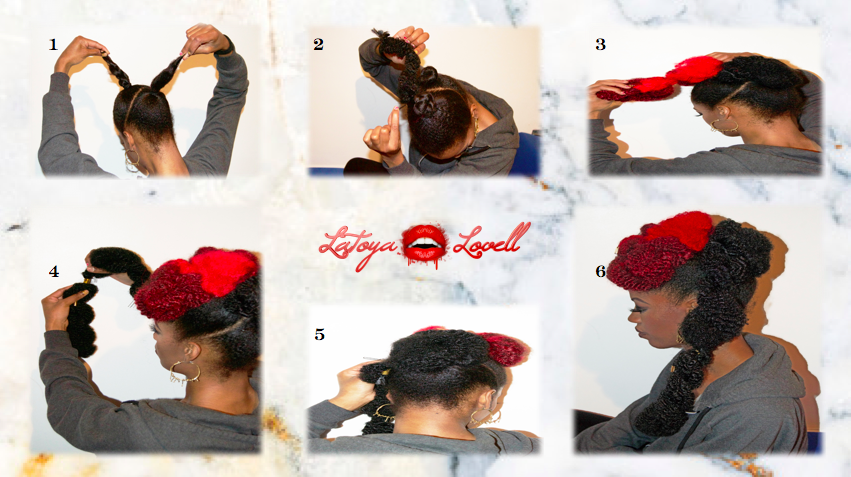 You will need:
5 Bundles minimum of Runway Curls City Afro Hair (I have used three of the colour Midnight and 2 of the Limited Edition Colour Red Valentine Ombre)
Bobby Pins
Gel
Hairbrush
Elastic Bands that match your hair colour
Gold Hair clips for decoration (optional)
First split your hair into 2 sections and secure with a hairband and Gel. Split the hair in one hairband in two and twist to the end of the hair. Wrap the hair around itself to make a bun and pin in place using a bobby pin, repeat with other section.
Twist your Runway Curls, City Afro Bundle Hair in it's individual bundles and secure the ends with bobby pins. I have used 2 different colours as I wanted popping colours.
Secure one of the black bundles around your 2 mini buns and pin into place. Next pin the red bundles in place where you want them. Make sure to position the hair where you want it before you clip it on.
Attach 2 bundles together to make a ponytail using pins at the top and bottom and elastic bands of a matching colour to the hair.
Pin The Ponytail into the correct position.
#LatoyaLovellXRunwayCurls and #RunwayCurls so I can see your finished design.